Demonstrate Your Value with Quality Content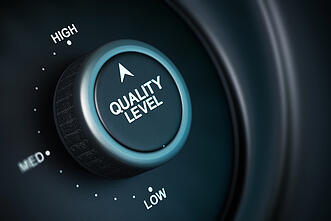 The Hunt for Quality Content
You can have the most beautifully designed website in the industry, but it won't get you anywhere without quality content. Quality can be achieved in many ways be it education, humor, or empathy. It covers pretty much anything as long as it engages the audience.
It's this level of content that compels your visitors to return to your business rather than the dozens of other options available to them. If it is truly high-quality, then they may even share your content in their social sphere.
In 2012, Google reported that it serves over 3 billion search queries per day. According to the P.E.W. Research Center, about 81 percent of people reported relying on their own research before making an important purchase. That staggering number illustrates the unmatched impact and reach that Google commands over marketing.
The question is - will it be your information a prospect finds when conducting a search? Existing search algorithms not only check for relevancy but for the refinement and value of your content as well. Otherwise, Google will drive less and less traffic to your business and deny you opportunities to engage with those customers.
Content Marketing vs. Traditional Marketing
Content marketing, also known as inbound marketing, is the process of creating content to promote brand awareness, engagement, and loyalty. This doesn't sound too different from popular ideas of traditional marketing as both lead to similar end results.
However, content marketing achieves them by creating a multi-platform web of content that organically educates and engages consumers. Rather than bombard potential leads with intrusive ads, this content leverages solid SEO practices so that shoppers can easily find it themselves with simple search queries. This places the decision-making power in the consumer's hands and builds trust without the need for an initial purchase.
On the other hand, traditional marketing's aim is to drum up large-scale interest by putting advertisements in front of as many people as possible. This form of marketing is generally pushier and attempts to highlight only the most positive aspects of a product or service rather than bring meaningful information or entertainment to the audience.
These opposing approaches obviously mean that they utilize very different distribution channels. Unlike traditional marketing which focuses on interruptive advertising; content marketing creates content that potential leads can discover on their own while researching products. Popular choices include blogs and social media posts.
What Makes "Quality" Content?
Simply put, high-quality content refers to any content that's able to engage an audience and improve their opinion of a brand. Content itself is an exercise in creativity and allows for countless viable approaches. The only immutable guidelines are that it must be focused on what your readers are searching for and are willing to share with their colleagues, friends, and family.
So, if you want to maximize the value of your content, it needs to include at least some or all of the following considerations:
Designed Around a Keyword
The easiest way for shoppers to find content is through search engines. This means that whatever content you make needs to include at least a passing resemblance to however they phrase the query. This is most obvious in longer-form text content like blog posts but also applies to videos and infographics. There are text-based aspects in nearly all content such as titles, transcripts, captions, and summaries.
Just be wary of overdoing it to the point that your content stops reading naturally. Google can recognize when content is "keyword stuffing" and will penalize websites for it.
Easily Consumed
Audiences are unlikely to consume complex content unless they have a vested interest in the topic. Most of the time, they want answers fast and they don't want to wade through miles of irrelevant chatter. Luckily, Google does everyone a favor and pre-highlights sections of text that contain the searched keywords or phrases.
However, if the audience is looking for a big picture view of the subject, then it's a huge boon for content to be skim-able. Make key points more noticeable without forcing the viewer to delve too deeply into the details. This is most easily done by making sure titles and subtitles are informative and including easily understood content like graphics. The burden of finding the content is already on consumers, it's up to us to carry them the rest of the way.
Adds Value to the Audience
This is a no-brainer, but many businesses become overly focused on putting out content to the detriment of quality. They harp on subjects their audience only has a slight interest in and never draw them into the content.
It's up to your business to decide how you're going to add value to your audience's lives. While many choose a method that fits their brand voice and product, it's possible to mix it up too. You can make them laugh, tease a product, or educate them. Just do anything that engages them so that the next time they scroll past your content or see your site on a search, they say, "This is worth taking a look at."
Types of Content Marketing
Content marketing is a blanket term covering a massive range of possibilities and platforms. It can be anything from a cheesy skit video to an informative exposé. BroadVision Marketing creates a diverse content catalog based on your target demographic and drives customer loyalty. Here are a few of the most utilized niches used for content marketing today.
Social Media Content Marketing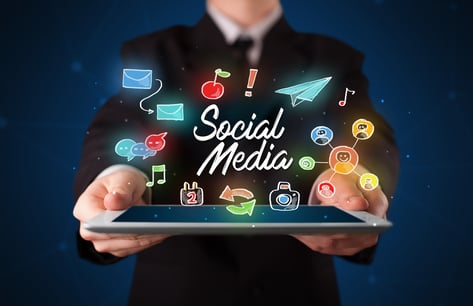 According to Statista, the average person spends over 2 hours a day on social media. This number is only growing each year, so it's becoming more and more of a necessity for businesses to invest in social media marketing.
With the number of social media sites increasing by the year, the effectiveness of digging down on a single platform is falling fast. It's now important to update your business on the different aspects of sites like TikTok and Instagram to create content that is the best fitting for those interfaces. However, this increase leads to a proportional rise in another indispensable resource: Influencers.
Influencers themselves offer businesses a quick way into target audiences. By finding an influencer who focuses on a topic related to your product or service, you quickly gain access to hundreds to thousands of new leads. By partnering with them, you gain the benefit of the trustworthiness they've built on their profile without having to build it yourself.
Infographic Content Marketing
Infographics are just like they sound. They're eye-catching visuals meant to educate an audience. These are perfect for distilling complex processes into a simple and easy-to-follow structure. The use of accompanying imagery further reduces the need for lengthy explanations making it one of the most easily consumed marketing tools on this list.
Not only are they easy on your audience, but they also have very low production requirements. Unlike banner advertisements, the images on an infographic don't need to be refined or stylized. In fact, most utilize simple characters and bright colors to catch the viewer's attention while not taking away from the core idea it's presenting.
Blog Content Marketing
The ubiquitous blog. At their core, blogs are library-like resources that help visitors better understand a website's product or service. Their educative purpose paints the business as an authority on the subject: a trusted source that consumers should keep coming back to.
Despite the many benefits of a blog, they are notoriously easy to get wrong. They require a strong commitment from the business if they want to see results long-term. However, when done right, they are one of the strongest tools available for engaging readers and improving SEO rankings.
Podcast Content Marketing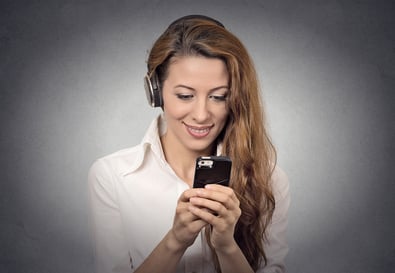 Podcasts are gaining more traction as content consumption becomes a more passive activity. In 2021, about 1 in 5 Americans listened to podcasts on a weekly basis. To ride this trend, many businesses have started producing their own podcasts or sponsoring existing ones.
This is an intensive endeavor and it's more likely for podcasts to fail than succeed. Only 20 percent of podcasts are expected to make it to the following year. Despite these risks, they have the benefit of covering a broader range of topics and presenting ideas in a more casual manner than most other sources.
Video Content Marketing
Smartphones have made consumers more receptive to video content than ever before now that they can be viewed outside of a set of prepaid channels. HubSpot found that 87 percent of marketers report an increase in traffic when introducing video content to their marketing.
Another great thing about video content is the flexibility of its use. Unless it's a viral video, there's a very small chance people will find it organically through video-sharing sites like YouTube. Instead, videos are best used on social media, or to accommodate other pieces of content like blogs or landing pages.
The Connected Nature of SEO and Content Marketing
I'm sure you've realized by now that content marketing can't exist without solid SEO practices behind it. Sure, you could see some results by working with social media influencers and leveraging PR relationships, but any other content would get lost in the online maelstrom. It would only reach a fraction of the audience it should have, making your content lose its edge over traditional marketing.
The keywords you choose inform the topics that your content pieces cover. The backlinks you get to improve your search ranking also naturally bring in new visitors independent from Google. Even the habit of frequently releasing content aids in showing Google that you are an active authority.
Breaking Down Content Data Analysis
It feels pretty good to see that first blog view or the first infographic clickthrough. However, the job isn't anywhere close to finished. Every business should be regularly performing data analysis to keep up with audience trends and ensure their content remains engaging. For example, have you ever noticed any problems like these?
Your content is producing more traffic without an increase in conversions.

The same social media message doesn't perform as well on different sites.

A video has a lot of views but nobody is engaging in the comment section.

Visitors are spending a lot of time on your site without ever making a purchase.


These are all problems that need to be addressed by tweaking your content and your guide for that is in the data. It will show you which pieces of content are less effective and how you can improve on them based on what works in other content.
Here are some data points to consider when deciding on improvements for your next content release:
Sales - Sales are always the top card in the deck. It's the first thing you see when measuring success. Checking your revenue is a great way to see a big picture view of whether or not your current marketing strategy is better than your old one. However, even if your revenue has improved, it's always worth the time to see if there's any useful data hidden deeper down.

Search Ranking - Your content relies on how easy it is to find compared to your competitor's. Checking your search ranking is as simple as testing out different queries on search engines and seeing where your site appears. Knowing your search ranking for particular keywords will let you better optimize your content around the searches you're the weakest in. While you can do this manually to get a rough estimate, another option is to use the Google Search Console. This is a free tool that spits out a number of performance indicators and areas of improvement.

Repeat Site Visits - According to Adobe,

40 percent of eCommerce revenue

comes from repeat customers. So, it's important to know how effective your content has been in cementing your brand as an authority. An easy way to track this metric is with a customer relationship tool. CRM tools use browser cookies to record each time an individual returns to your site.

Time Spent on Page - How long a visitor spends on your content tells the rough story of how engaging it is. Learn how long, on average, it takes to consume your content and compare that to how long visitors spend engaged with it. If the majority jump off the page before time is up, then you have a real problem.

Bounce Rate - There are horror stories of people who immediately leave upon seeing a blind date. Don't let your website get snubbed. Bounce rate measures the number of visitors who leave your site without engaging at all. If this number is too high, then the

user experience

is turning them away before they even have a chance to find your content.

Social Engagement Metrics - These are probably the easiest to find right away. Social engagement metrics refer simply to the number of interactions your content has. This includes comment sections, likes, and shares. The more links you can build with other sites, the better your content will rank on search engines.

Partner with BroadVision Marketing to Create a Content Marketing Strategy
BroadVision Marketing we're experts collecting and analyzing the data from our campaigns. We develop custom, quality content that fits your organization's needs and are never satisfied by results in the now. Our goal is to be ahead of the curve and predict consumer trends so you never have to experience the downtick caused by being too late.
If you want to feel for yourself the effects of having a seasoned content marketing agency at your back, then contact us today.