Website Design
If you're launching a brand new site or need a redesign, the smart move is to think about inbound marketing methodologies from the start. Your site's conversion rates, user experience, and ultimately your bottom line will thank you.
The best reasons to bring in inbound website design professionals include:
Your site isn't converting as many visitors as you want

Business has grown, and the site structure doesn't show your new content

Your site lacks responsive design, uses Flash, or is otherwise incompatible with many users

People have a difficult time navigating the site

Your current website design is outdated or does not match your brand
Website Design for Inbound Marketing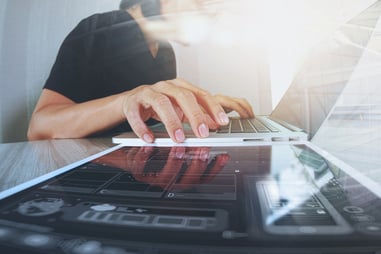 The bare minimum for a successful site is to look good and offer a great user experience. For inbound marketing purposes, we need to go a step further and implement strategic decisions directly into the design.
There are plenty of sites out there that are pleasant to look at, the truly successful ones are graded by how well it converts visitors into leads and leads into new customers.
Before we start on your website design, we strategize and plan around the elements that make a great inbound marketing site:
Spotlighting content

- Inbound campaigns stand on the strength of content, so the site design needs to prominently feature your articles, blog posts, downloadable ebooks, videos, and more.

Intuitive navigation

- Dropdown menus, sidebars, and breadcrumb navigation are some of the best ways to provide an easy path for users to always find the information they need.

Buying cycle

- Different pieces of content and calls to action should be placed strategically in different locations. Smart website design can tailor each page to the needs of the audience. Pages for casual visitors can offer more information, while pages for leads who are ready to buy should push the closing pitch.

Mobile-friendly

- With so many users browsing on phones and tablets, your site needs to be user-friendly for these customers. We recommend responsive website design to ensure a good first impression.
Redesign or Start from Scratch?
Rather than scrap your entire website, there's a good chance it can be saved. By cleaning up the navigation, modernizing the aesthetics, and optimizing it for inbound marketing, BrandVision Marketing can have it converting visitors in no time! This option lets you build on top of the great features you already had.
However, starting over with a completely new website may also be the right choice to help integrate Hubspot marketing tools or switch to a different content management system like WordPress or Joomla.
Whether you need a new website design or a thorough makeover, our team will start with vision and strategy before creating a beautiful and user-friendly site designed with inbound marketing in mind. Website design has numerous effects on bounce and conversion rates, so it's important that you consider these factors from the very beginning.
A Website Built for the Customer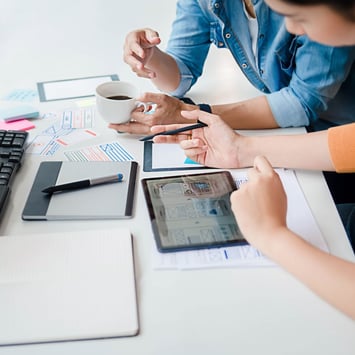 You already know everything about your website. You don't need someone to hold your hand and walk you through it.
Remember that your customer isn't an expert. They don't know where every link leads or what they're even looking for in the first place. They need help.
Your website should act as an invisible guide for your visitors. It should seamlessly carry them to their desired content and give just enough information to satisfy them before moving them to the next attraction. The best websites will keep this up until the customer is ready to make a purchase.
This means catering your content to meet their needs and tailoring your messaging to any questions they might have. Put yourself in your customer's shoes and take a walk around your site. Would you care about what your landing pages say? Can you find the answers to common questions regarding your business? Do you see why you should buy from this business in particular?
Many small businesses fail to ask themselves these questions and create their website without considering their target audience. They add blogs posts, they work on beautifying the branches without understanding that the tree itself is weak or unstable.
Keep up a mindset of helping the customer rather than selling a product when designing your website. This will maintain a conversational and trustworthy tone.
Components of a User-Friendly Design
In 2018, Statista reported that 61 percent of people believed that the ease of search and navigation was the most important aspect of their shopping experience. If they couldn't find what they were looking for within a few clicks, then there was a much higher chance of bouncing.
So, stop worrying so much about placing your graphics in pixel-perfect locations and hone in on how visitors organically journey through your site. The goal of every page should be to naturally transition the visitor to the next until they make a purchase or find the content they need.
Many factors play into this, and some are out of your control. However, there's no shortage of things you can do to make your website as friendly as possible.
Necessity of Mobile Design and Browser Consistency
The majority of Google searches in the US are now performed on mobile devices. Naturally, this means that it's become a necessity for all websites to be mobile optimized. There's nothing more off-putting than visiting a site on your phone and only finding a jumbled mess.
If your site suffers from this, then you're losing out on a massive chunk of business. This is even more of a death sentence if you rely on physical customers since most of them will be making local searches on their phones to find you.
Most website building software has options to automatically convert assets to mobile, but it can be hit-or-miss with complex sites. If your site still has problems after this, then you'll need to compromise on certain parts or find a professional developer to aid you.
Make sure to check how your site looks on a variety of browsers on both your personal computer and mobile devices. Depending on your formatting, your site may load differently on particular browsers. This will lower the user experience and result in lost clients.
Make Your Content Accessible for All Users
You might think that differently-abled users only make up a small part of the population, but it's estimated that over 7 million people in the US require alternative methods to engage with visual content.
This group includes the blind, elderly, and those with severe dyslexia. Accommodating their experiences with screen reader software will paint your brand as one that appreciates and takes care of its visitors. You must accommodate their experiences as well with screen reader accessibility.
Even if those capabilities are never used, you will have painted your brand as one that appreciates and takes care of its visitors.
Properly Formatted Content
Most content is consumed through skimming rather than reading. This is because pages often contain a lot of information that isn't immediately relevant to a visitor's query. Why waste time reading for five minutes when you can skim through and find the answer in thirty seconds?
This is okay. It's not insulting your content or your business. After all, websites should be built for the consumer.
With this in mind, content formatting should help the reader skim as quickly as possible. This is easy through properly named headings and subheadings. Some other great tools in aiding speed-skimmers are bullet points, lists, or separating key ideas into their own paragraphs.
Optimized Site Speed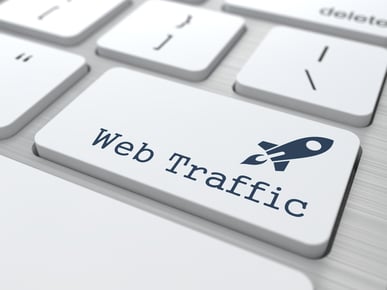 Internet pioneers probably remember waiting forever for a single image to load. We did so because it was novel and amazing at the time.
However, the novelty has worn away. Waiting for a page for longer than a few seconds might as well be a slap in the face. An insult to our time. Google even released data stating that 53 percent of mobile users will bounce from sites that take longer than 3 seconds to load.
Imagine spending weeks optimizing your site's interface and content and losing business because you made someone wait for four seconds.
Additionally, websites with long loading times are deprioritized by Google's search algorithm. So, it's not even a problem of visitors bouncing from your site. They can't even find it in the first place!
Pleasing Consumers with Perfect Navigation
Like we said before, the majority of shoppers believe that search and navigation is the most deciding factor in their shopping experience. This means that shoppers can find anything they want without clicking through too many pages or getting lost due to confusingly named links.
Just the appearance of a cluttered menu bar can turn some visitors away. A minimalistic menu bar works best in most cases. If you include a dropdown list for increased variety, then make sure to limit the options there as well. Most of your visitors will be searching for specific content and filling your menu with irrelevant items only hurts the user experience.
Additionally, if you want great cross-browser compatibility, then design your menus with JavaScript or simple HTML. This keeps your site from falling apart because you optimized your site for a specific browser.
Mixing in Video Content
People prefer to absorb content in different ways. Some like to skim through thousands of words and learn as much as they can. Others just want to listen to a short video explaining a key concept.
The demand for video supplements for content pages is growing. Over 70 percent of consumers would rather watch a video explaining a process than read the text version of it. However, creating enough videos to go with every piece of content on a website simply isn't feasible for most businesses.
An economical solution to this is to only add visual media to a website's highest converting content. This massively cuts down on extra production costs and still reaps most of the benefits. This strategy also helps your best content stand out in the minds of your visitors. On average, visual content makes a viewer over 6 times more likely to recall a brand at a future time.
Premium Content Types
Blogs and videos only scratch the surface of great inbound marketing and web design. These mediums should be accompanied by the occasional piece of superior content. Introducing this to a website keeps it fresh for returning customers and boosts its credibility as an authority in a field.
Examples of this type of content include:
Online Courses

Webinars

eBooks

Case Studies
Visitors understand that this type of premium content is more time-consuming and costly to produce. However, they give visitors of your site value that your competitors don't have. It's an offering distinct to your brand.
While standard content is delivered to audiences for free; premium content sometimes comes at a cost. This cost can be anything from supplying contact information to an actual transaction. Putting some sort of barrier to entry will only raise its value in the eyes of your audience.
Add Review and Comment Sections to Your Pages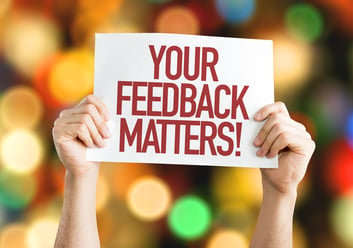 According to Google, 55 percent of shoppers read at least four reviews before making a purchase. So, businesses should follow the old saying and let their customers "hear it from the horse's mouth."
Including unbiased comment and review sections into your product pages gives potential customers insight into your product's quality. Even if you want to hide certain aspects, they're still likely to look for reviews in other places where you have little to no control over the narrative. This also takes them away from your website and disrupts the buying process.
Furthermore, these sections encourage engagement among your audience which brings two huge benefits to your business.
The first is additional social proof. If a visitor happened upon your site without going through your inbound marketing funnels, then it's unlikely they've discussed or read about your products with any previous customers. Having a space to do that integrated into your site greatly raises your credibility among this group.
The second is that active comment and review sections help boost SEO rankings. They are consistently adding content to your site which informs Google's algorithm that your site is bustling with activity. This is a key point Google uses in determining a page's position on a SERP.
Real-time Conversations
When a visitor runs into a problem or has a question, they don't want to wait days to get an emailed response. Consider yourself lucky if they think about talking to you at all. No, they want answers right away or they'll turn their business over to one of your competitors.
These real-time conversations are particularly needed for complicated niches that the common person has little understanding of. Any technological field is a great example of this. Their support lines are always filled to the brim with people not understanding how to reset their devices.
Setting up an instant-support system requires a dedicated team to monitor the chat box at all times for requests. Although this is a considerable investment, it's well worth it to maintain customer satisfaction.
However, if you don't want to jump straight into the water, then there are beginner steps you can take.
Set up a chatbot that refers queries to appropriate content

Develop an FAQ for visitors

Assign the task to one person and limit the queue
Partner with BroadVision Marketing for Your Website Design Needs
A strategic website is non-negotiable for any inbound marketing campaign. It guides your visitors through their buyer's journey and builds brand loyalty. At least when it's done right. BroadVision Marketing crafts an attractive and intuitive website that makes your audience happy to do business with you.
Contact us to schedule a consultation and discover how our website design services can deliver the best inbound marketing success for your business.