Why Use Video for Inbound Marketing?
According to Hubspot, most people watch an online video every day — and by 2018, videos will make up about 80% of all web traffic! And it's not all funny cat videos, either. Businesspeople are frequently watching videos related to their industries. Customers are clicking through from email blasts more often when the email contains a video.
If you aren't sure whether video is right for your marketing plan, consider the ways it builds your audience and improves conversion rates:
Google and Bing rank videos on the top of many search pages

People click on videos more often than text-only pages

Videos keep people on your site for longer

People who have watched a video are more likely to buy from you
Videos for Inbound Marketing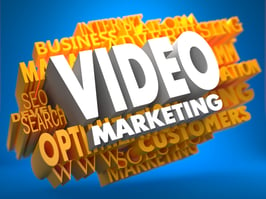 Being successful with video marketing does not mean trying to create the next big YouTube hit. You just need to create simple videos that resonate with your audience. Videos can be used to create a human connection with your potential customers, and you can draw in leads with videos that offer helpful information.
Some popular ideas for inbound marketing videos:
Explainer and how-to guides.

Give the customer something of value, and they will come back to you when they need to make a purchase.

Product reviews.

When you get a product in stock, make a show-and-tell video to describe the features and benefits.

Greetings.

Landing pages can feature short videos to greet customers with a smiling face and make them feel an immediate connection with your company.

Highlight a popular blog post.

Your highly effective blog post from a few years ago can be scripted into a short video to re-energize the content.

Entertainment and storytelling.

Capture the funny or unusual moments at your company and share them as click-worthy content.
Video Marketing Made Easy and Affordable
Most of us have a camera in our pocket and film editing software on our computers. If you have a smartphone, you can shoot a simple video and upload it to your site in less than an hour. So, yes — producing marketing videos can be very quick and low-cost!
Of course, you want videos that will enhance your brand and leave a positive impression on customers. Not everyone feels comfortable shooting a how-to guide or "explainer" video and editing it to look for professional.
Our video services help you bridge the gap between DIY and Hollywood quality, and we can do it for a much lower price than you probably expect. You can send us your homemade videos and we turn them into professional quality, or we can help you create videos using our talented team's skills and equipment.
Afraid you don't have the budget for video production? Videos are actually the most cost-effective form of online marketing. Get in touch with us to find out how we can deliver marketing videos at affordable rates. From new product reviews to helpful tutorials to viral entertainment, our videographers can make it happen for you.
Ready to get on board with video and put your company in front of more eyes than ever? Get in touch with us to brainstorm and discuss the process! We offer video marketing services on a per-project basis and as part of our inbound marketing campaigns.