Resources
1. The Seven Principles for Attracting More Clients:
If you are going to attract more clients to your professional service business, you must market those services. But you can't market haphazardly and expect consistent results. You must market according to proven principles. This article outlines those principles and gives you the keys to growing your business with less struggle and effort.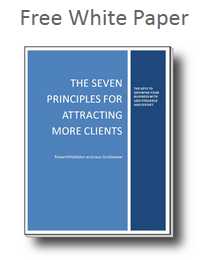 2. How to Play and Win at the Game of Marketing
Complimentary Presentation
Not many business owners see marketing as a game. They see it as a struggle. But it's only a struggle because they are unaware of the rules of the game and how to win the game.
Let's compare marketing with a game most people are familiar with: baseball. In baseball there are four main activities: throwing the ball, catching the ball, hitting the ball and running. If you took a person who didn't know the rules of baseball, and had him join a baseball team, he would struggle for some time. Until he figured out the rules of the game, baseball would be mysterious and perplexing.
It's much the same with marketing. Most of us know the fundamental activities of marketing–networking, writing, speaking, sending emails, and the like–but we rarely see it as a game with very specific rules that lead to attracting clients consistently.