Marketing Automation Services
Developing meaningful change or innovation in a business can take a while. Any improvements involving your employees come with a training cost and an adjustment period. The results won't be evident for an extended time and it can leave you feeling doubtful if anything improved at all.
However, this waiting period only applies to the human elements of your business. Automated processes begin working immediately after set up and massively expedite the everyday tasks that shave away productivity.
Imagine if you woke up with your teeth already brushed, your bed already made, and breakfast laid out on the table. Pulpy orange juice and all. You could dive straight into the tasks that really matter. This convenience is what marketing automation brings to the table.

What is Marketing Automation?
Marketing automation is a method of using technology to complete various business tasks without human interaction. Not only does this free up your employee's time for more specialized work, but it also adds reliability and timeliness to the processes which allow different departments to work together more efficiently.
The sales team wouldn't need to guess when marketing will finish analyzing metrics from the latest newsletter. Graphics wouldn't have to wait to know which ad visuals had the highest ROI. Since such processes are automated and occur at regular times, everyone knows when the information will be available. Different teams can work more fluidly without waiting for "Bob" from accounting to respond to an email.
Now, you may be reticent about trusting automatic programs to handle your businesses' vital processes. After all, your success hinges on common tasks like marketing analysis, personalized sales tactics, and daily email marketing.
However, it's not like you're gambling on an untested industry. Marketing automation has been around since the last century and has built up significant traction in recent years. It's well-tested and constantly growing more reliable due to advancements in artificial intelligence and machine learning.
80%

of businesses using automation experience an increase in

attracting leads

Over half of companies currently incorporate marketing automation into their operations.
The marketing automation market is projected to reach $8.42 billion by 2027

On average

, users see a 14.5% growth in sales productivity after introducing market automation
Integrating this technology into your operations as quickly as possible gives you an edge over your rivals. Soon, marketing automation won't be a luxury, it'll be a competitive necessity.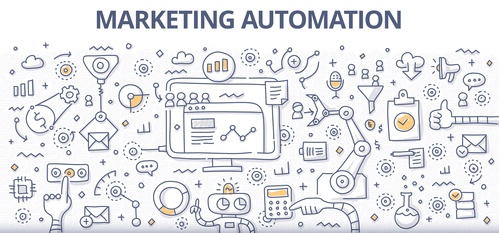 How to Implement Marketing Automation Into Your Business
Similar to good security measures, marketing automation software can only show its true worth when it's been properly implemented. It's not like human thought which can switch gears and go a different direction at the drop of a hat.
Complete preparation is required if you want to see the full power these tools can bring to your business.
Know What You Want
All businesses will benefit from automating certain processes, but the specifics will vary. So, before you start, it's critical that you define the exact tasks you want to automate and what you want to gain out of doing so. This will let you stretch your budget further and keep complete control. A few of the most common examples are triggered emails, social media posting, and marketing analysis.
Don't Try to Do Too Much
When you start your research, you'll find dozens of tools designed to streamline your marketing tactics. You need to resist most of them. Taking on too much will only confuse your employees on what their responsibilities are. There's also no guarantee that you'll be able to manage all of these tools right away. Slowly integrate essential tools into your operations and bring on new ones as needed.
Find the Right Marketing Automation Platform
A marketing automation platform is essentially the specific software brand you're choosing. As stated previously, the industry is growing quicker than ever and new services are frequently popping up. There are many factors to consider when searching for a suitable platform, but the biggest ones are:
Your Budget: This is probably something you considered before you even started looking. There are hundreds of things that eat away at a marketing budget, so finding ways to save is critical. But marketing automation is a tool that will end up speeding up processes and reducing your overall operational costs. Consider that when deciding on a concrete budget.
Included Features: Most platforms share a list of basic features such as customer tracking and triggered emails. However, many try to set themselves apart by offering more unconventional software. This is when you should remember the reasons you need marketing automation to ensure you don't pay for perks you'll never use.
User Interface: If it's your first time using an automation platform, then you might get a bit lost. Look at reviews for each platform and inspect their

UX

to decide on which will be most convenient for you to use. You don't want to waste weeks trying to figure out the interface and miss out on the benefits in the meantime.
Third-Party Compatibility: There are dozens of widgets that online stores depend on to operate like AdWords and Salesforce. If the automation platform you choose isn't able to integrate with all of these programs, then it won't be able to show its full effect. Discuss with various departments what tools they use and find a platform that meshes well their existing routines.
Support System: Any new technology you're working with will bring its own problems. Having a support system that answers promptly and patiently is a must.
Create a Rollout Plan
When introducing new technology to your business, you need to get everything ready for the changes. Although there isn't a large amount of training necessary, your employees need to know how the platform works. This helps them understand what information they can find there and what tasks they no longer need to focus on.
Marketing Automation Platforms
There are different marketing automation platforms available for clients to choose from. However, none are as comprehensive as HubSpot. They can help with all aspects of a business, from contacts to email, sales, marketing, and of course, marketing automation. Here is an overview of the platform we believe should be the basis of every business that has growth as their main goal.
The HubSpot marketing automation platform is the definition of the phrase "Jack of all trades." It isn't purely dedicated to automation, but that isn't a bad thing. Most people don't know the end of one of Shakespeare's most well-known lines:
"A jack of all trades is a master of none, but oftentimes better than a master of one."
It doesn't delve too deeply into any of its services, but marketing departments that take on many different tasks will appreciate the varied tools available. The HubSpot marketing automation platform is also great for hardcore planners. It provides a detailed workflow organizer so you always know what is happening in every step of your customer's journey. There is also a sales platform that you can use to help boost the efforts of your sales department!

Workflow Marketing Automation
A "Workflow" is a visual depiction of the general path that a customer takes from initial research, final payment, and everything in between. Workflow marketing automation focuses on the various touchpoints where the customer is sent an automated interaction.
Automating these interactions is paramount to proper lead generation. Customers that interact directly with your business within the first 5-minutes are about 3 times more likely to make a purchase. However, trying to catch every customer in that limited time frame is nearly impossible. Some are bound to slip through the net.
Marketing automation uses a collection of triggers to automatically interact with potential customers as soon as they enter your system. Actions like clicking on a link, visiting a page, or completing a survey trigger an automated message that moves potential customers through your sales funnel.
For example, a HubSpot workflow would send an automated email to a visitor who clicked on a link to one of their courses. This might include a discounted price or an offer for additional material.
You can even set different messages to send depending on the trigger. This extra effort gives the impression of a customized experience to each customer.
Call in a Marketing Automation Expert from BroadVision Marketing
Hiring a specialist, like BroadVision Marketing, will ensure a successful beginning to your marketing automation journey. Due to the importance of these automated processes, you want to ensure everything is set up right the first time. From choosing a suitable platform to training your employees, expert help will prevent you from making any mistakes during this transition.
BroadVision Marketing is adept at analyzing your processes and determining the most beneficial areas to automate. With a mindset of transparency, we keep you in the loop and fully aware of any changes being made to your operations. To learn more about the benefits that marketing automation can bring to your business, contact BroadVision Marketing today.