Analyze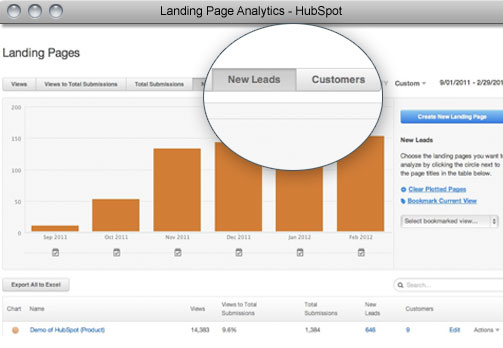 Do you know which of your marketing channels are bringing in the most customers? As a Certified HubSpot Partner, we help you see exactly what your performance online looks like - in terms of visits, leads and customer acquisition - so you'll know where and when to double-down or pull back, making your marketing investments smarter and better.
Social Media Measurement: Understand how social media is driving leads and traffic.

Organic Search vs. Paid Search: See how much of your search traffic can be attributed to search engine optimization, and how much you're paying for.

Buyers vs. Browsers: See which online channels brought in serious leads versus website visitors who just came to look around.
| Social Media Reach | Blogs |
| --- | --- |
| We gather data about the reach of your business in social media and help you understand the changes in your industry. | We help you identify what type of blog content is working best to attract visitors and drive traffic - helping you make your blog posts effective and engaging. |
| Competitors | Landing Pages |
| We keep track of your rivals and see where you stand on traffic, inbound links, conversion rates, lead generation and other important metrics. We can even track up to 10 competitors, and help you compare yourself with other companies in your industry. | We help your pages convert better by measuring and optimizing your landing pages for success, including comparing pages against each other to see which performs best. We also track progress over time, and see what offers are most effective. |
| A/B Testing | Conversions |
| By creating multiple versions of your landing pages, we can test and optimize your web pages and even run them for different audience segments at the same time, so we can see which pages perform better. | We help you see which of your marketing activities are most effectively moving your prospects through the sales funnel, allowing you to focus your time and money in the right places. We can identify what your leads did right before converting, identify your most influential pages and interactions, understand how long your best leads took to make their decision, and determine your customers' true path to purchase. |